Customers are the building blocks for long-term success of any business. Over the years, needs and requirements of online customers have changed. Online customers now expect a more instant and personalized connection with companies when they want to buy something or need support.
What is the best solution that combines personalization, precision and speedy responses? The answer is simple, Live Chat.
What is Live Chat?
In simple words, Live Chat is a method for businesses to communicate with their online customers to ensure 24/7 real-time customer support and more sales. Live chat helps businesses to not only proactively engage online visitors, offer real-time customer support but also generate more leads. Live chat can happen on the business website, within the mobile app or on social media.
With the help of live chat service, businesses can instantly answer questions that online customers might have, instead of customers having to look for that information on the website. The live chat conversation takes place through a chat window. The chat service can be delivered by a human chat agent, an AI Chatbot or a combination of both.
Here's a complete guide on live chat service, software and its uses in 2022 and beyond.
Why Live Chat?
As more and more businesses pop up in the online world, companies are constantly trying to acquire and retain more customers. Online customers expect businesses to be available 24/7, offer personalized service and instantly respond to their questions.
In contrast to phone and email support, proactive live chat service offers instant support, it is much faster, more convenient and much more cost effective. It is right there on the website or app as soon as a customer needs help. Your website is your online shop and much like a physical shop, you need someone to cater to customers and address their needs to help sell your products. Live chat allows you to be available 24/7 and take care of your customers. Live chat is not a maybe anymore, it is a must-have for every business with a digital presence.
Benefits Of Live Chat
Let's take a look at some of the primary benefits you can get by integrating live chat for your website.
Offer Instant Live Chat Support
In a world where customers change their mind in a split second, live chat enables you to instantly connect with your customers. Biggest benefits of live chat is, It eliminates delays in communication to help you provide customers with the best possible experience. The best support is the one offered instantly and live chat lets you help your customers' right there and then. You can make your customer support more personalized with live chat thus enhancing business efficiency.
Increase Your Engagement With Live Chat
Having live chat on your website is just like having a dedicated customer service and sales executive at your shop. By using features like proactive chat messages, you can engage every visitor on your website. The first step of every brand-customer relationship is an engagement just like this. Live chat enables you to enter right in the scene where it matters the most. For instance, maybe a visitor wants information about a specific product or service but they can't find it on your website. Live chat greetings can engage your visitors and show them where to look for help when needed. This improves your customer engagement and customer service simultaneously.
Capture Leads 24/7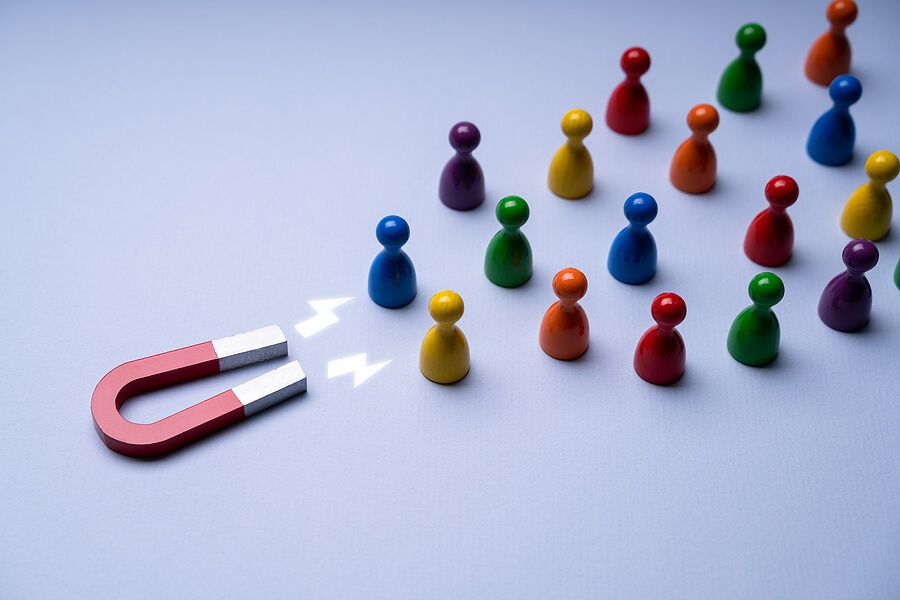 A higher engagement rate directly impacts the number of leads you capture and this brings us to how live chat can help capture leads 24/7. A website means a shop that is never closed and customers can visit your website any time of the day or night. You're missing out on a lot of leads by not actively engaging and talking to visitors on your website. Live chat enables you to be present on your website at all times, communicate with online customers, understand their needs and get their contact information. This way no lead is wasted and you can also filter out the irrelevant leads which you might have otherwise collected through a web form or some other funnel. Moreover, every captured lead is sent to the relevant department of the organization for quick action.
Live Chat Helps Sell More
The end product of higher engagement and more leads is more sales for a business. Live chat can help you turn website visitors into sales and improve the bottom line of your business. Many times, what prevents a visitor from making a purchase is the buyer inertia like uncertainty about delivery or payment method, questions about a product or service, etc. With live chat, you can step in on high intent pages and initiate a conversation to help the visitor get over buyer inertia and make a purchase. By quickly resolving such issues and answering questions in time, you can improve your sales and generate a higher ROI. You can also up-sell and cross-sell during the chat, inform online customers about loyalty programs or discounts and run promotional campaigns on the chat window as well to help you sell more.
Which Businesses Should Use Live Chat?
Live chat is for every online business, no matter which industry they belong to. Live chat is one of the most preferred mediums for communication for people today. Every online business either has a website or social media channels to connect with their customers. On all of the online channels, customers are more inclined towards having live chat because it is fast, convenient and adds a human element to your website. In the present times, it has become absolutely necessary for online businesses to have a stable and secure medium of conversation that can help them sell more and offer customer support. You cannot imagine having an online store and no one there to listen to customers or to help them out 24/7.
In short, whether you are a dealership, an ecommerce store, a hotel, a university, a law firm or any other business having an online presence and you want to get more leads and offer online customer support, live chat is a must-have for you.
What Is Live Chat Software?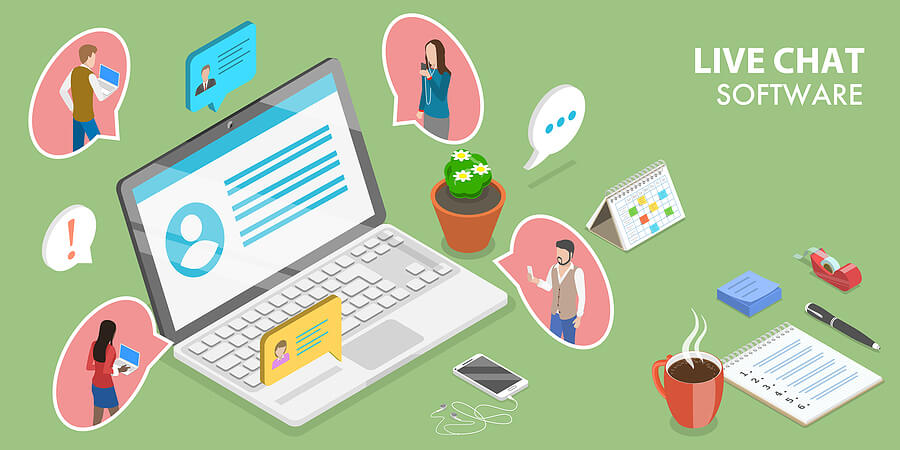 Live chat software is a technology that allows you to have live chat conversations with your online visitors. A live chat software is the medium that connects you with web visitors and you can either do the chat online yourself or you can set up your own contact center with agents to do the chats.
Live chat software ranges from a simple chat tool to an advanced chat management tool with features like lead alerts, proactive chat, in-depth analytics and reporting and campaign management. Gone are the days when simple chat tools were enough. Customers now expect brands to go above and beyond, hence having a live chat software with advanced features that helps you do that, is crucial.
What Is Live Chat Service?
A fully managed live chat service means that a live chat service provider will handle all your chats on your behalf with a dedicated team of chat agents. Managed live chat service gives you the freedom to focus on the core responsibilities of your business while the chat service provider takes care of all the chats for you. A managed chat service also ensures high standard quality of chats and more leads.
While most of the service providers rely on third-party live chat software, those providers who use their own technology perform better. The reason is that they have control over the technology and its usage to ensure optimum results. These companies also offer better security and flexibility as compared to their counterparts. By employing 24/7 fully managed live chat service, you can significantly improve the number of website conversions.
About LiveAdmins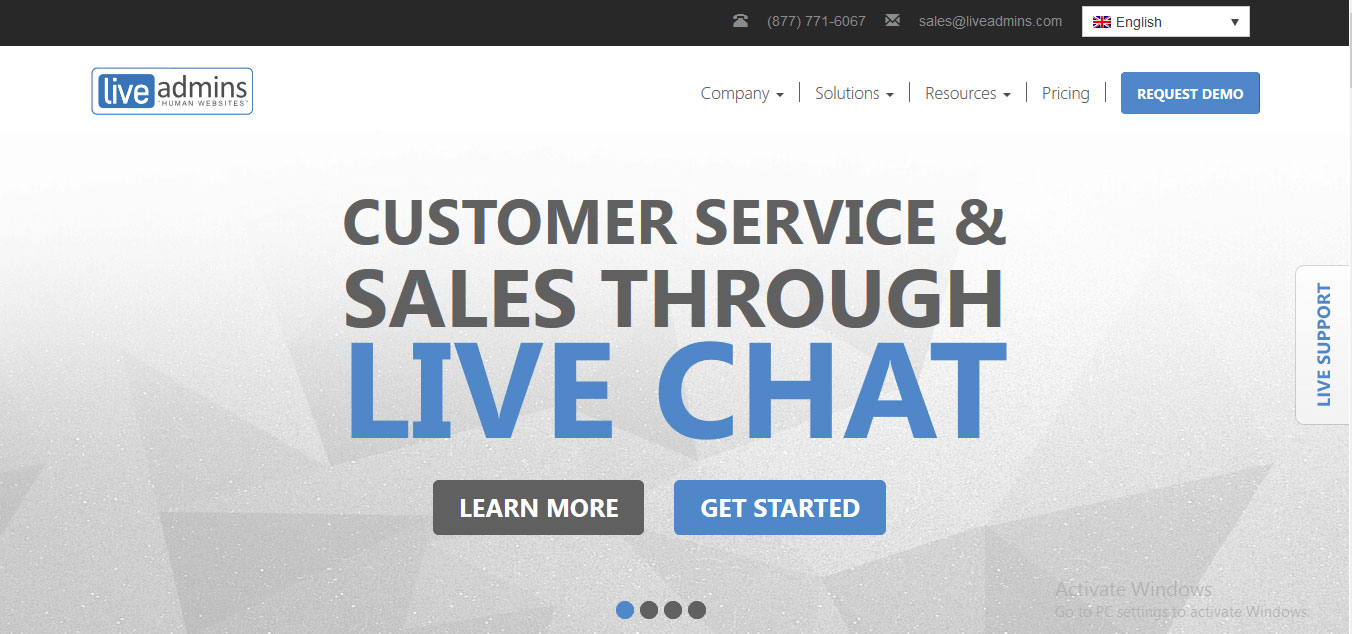 Established in 2002, LiveAdmins is a live chat company that has been providing live chat solutions to businesses all over the world for 20 years. We have helped thousands of clients in different industries over the past two decades to capture leads 24/7, increase online conversions and exceed customer expectations. With constant R&D, we have evolved our live chat to be the most innovative solution for online businesses in line with the latest global trends.
We offer the following on-demand live chat solutions to our customers.
LiveAdmins Live Chat Service
LiveAdmins is a leading, fully managed, 24/7 live chat service provider that has helped companies across the globe scale their business. In our 20 years, we have provided live chat service to thousands of businesses across multiple industries.
Some of the distinguishing features of our live chat service are as follows:
24/7 Availability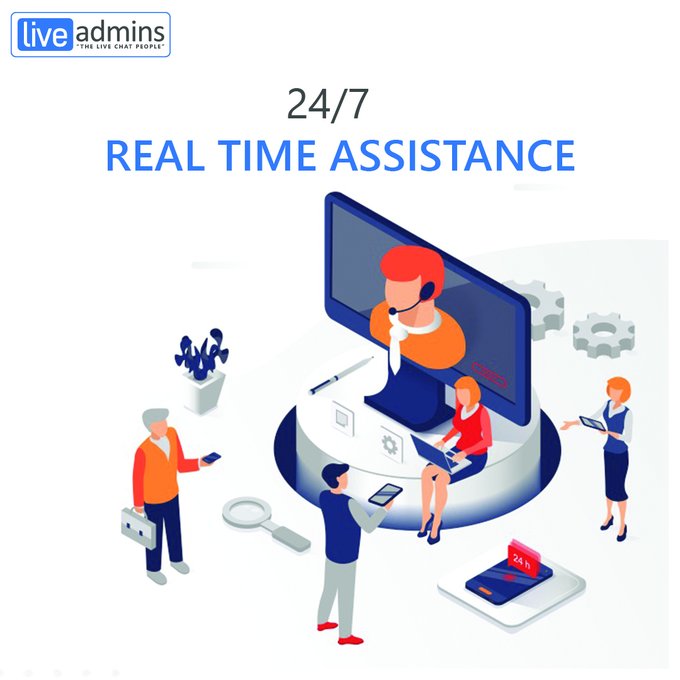 Our live chat service ensures 24/7 availability on your website, mobile app and social media. We have several contact centers established in different parts of the world for uninterrupted coverage across multiple time zones.
Multilingual Live Chat Service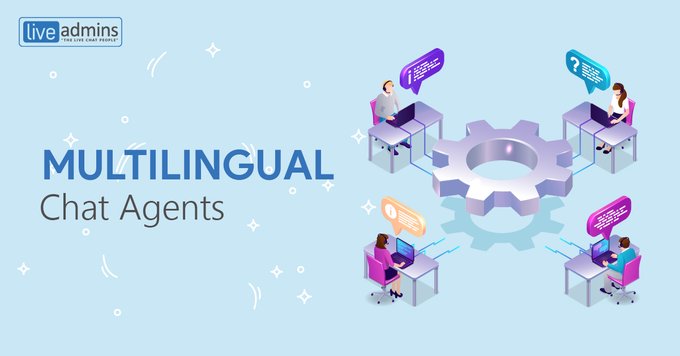 We offer multilingual live chat support. All of our agents are native speakers of these languages which ensures the best understanding of the language and the context. This allows us to offer precise and more relevant support as compared to services that use translators.
Proactive Live Chat Service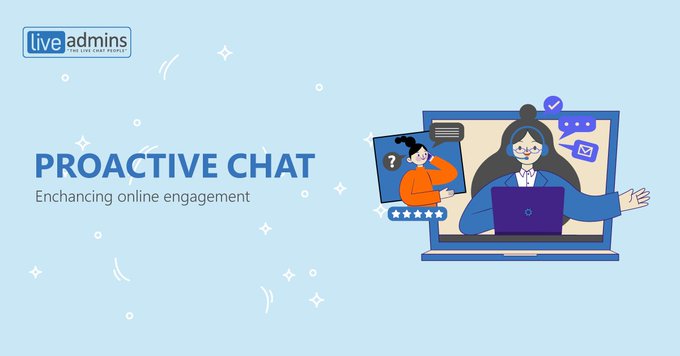 Our live chat agents can directly engage your web visitors proactively. This ensures a higher engagement rate and more chances of capturing leads or making sales.
Lead Alerts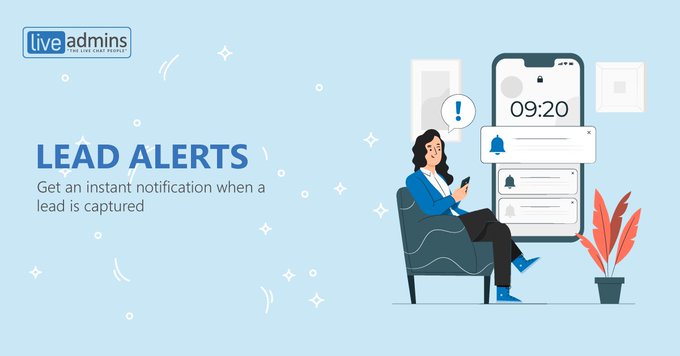 This feature allows our chat agents to directly send lead alerts on the preferred channel of your sales team so that they can take action on hot leads on a priority basis.
QC Assistance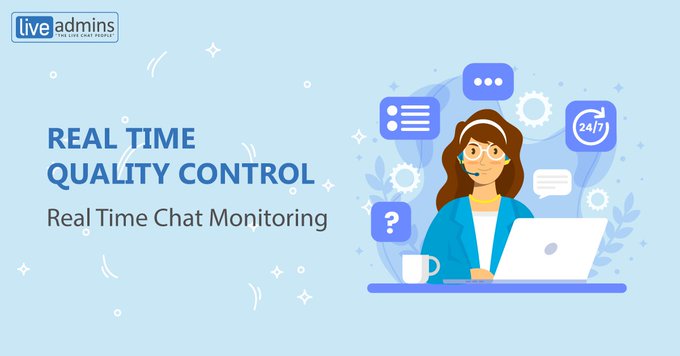 Our in-house quality control team not only monitors the chats but can also engage the live chat agents to help them during the chat without the website visitor knowing about it.
Handover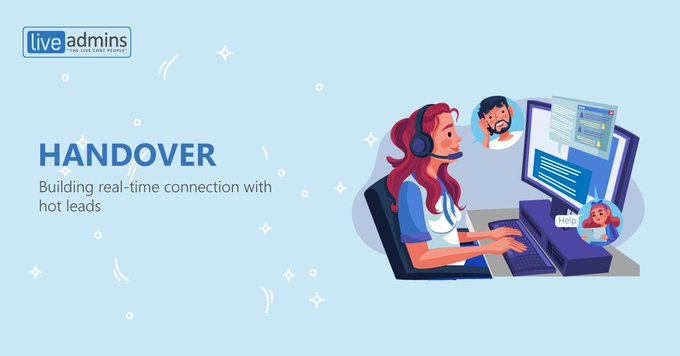 Our live chat agents can use the handover feature to connect online customers to your sales team as and when required in real-time.
Chat2SMS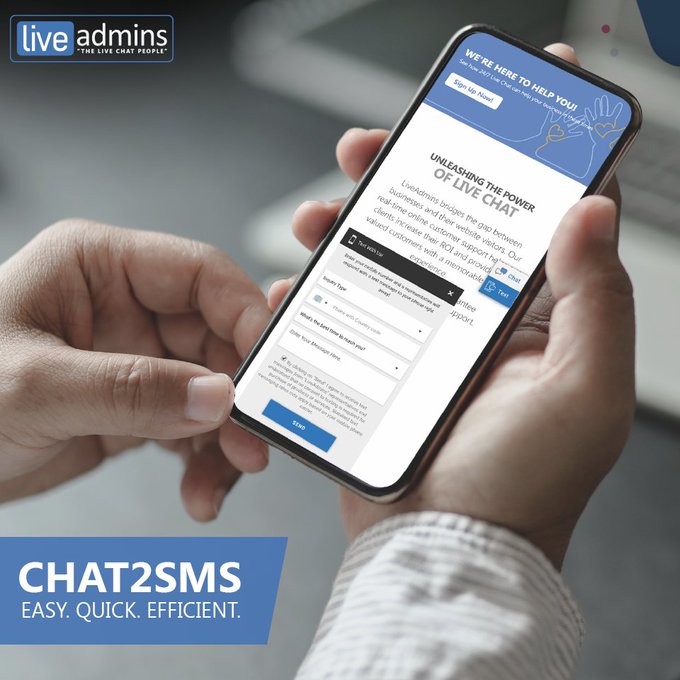 Our live chat service enables online visitors to continue the chat via SMS if they want.
Intelligent Chat Routing
Our system automatically distributes the chats to agents to maintain balance and allow our chat agents to perform at their best.
Ongoing Agent Trainings
Our live chat agents are regularly trained by our in-house trainers on the chat curriculum and scripts finalized by the clients. We also train our agents on honing their soft skills to ensure they deliver the best experience to online customers.
Moreover, our live chat service is offered through our own in-house live chat software which enables us to use all the advanced features of our software technology as well.
LiveAdmins Live Chat Software
LiveAdmins live chat website software is a tool that connects you with your online visitors and allows you to chat with customers on one omnichannel platform. Along the customer journey, there are various touch points through which your customers can get in touch with you. Our live chat software lets you manage all the conversations from these various touch points in one place.
You can use LiveAdmins live chat software to provide top-of-the-line customer support to your customers. Web visitors expect swift support and our live chat software lets you do even more than replying in time. Customer support is not the only thing that you can do with our website chat software. You can use it to understand customers, increase your engagement and sales too. Our live chat software has all the necessary tools to help your sales team capture more leads and get more sales.
Some of the features that make our live chat software stand out from the rest are as follows:
CRM Integration
You can now integrate our live chat software with your CRM to keep a track of all the leads seamlessly.
Social Media Integration
Integrate our live chat with your social media channels like Facebook, WhatsApp and manage all the chats on one platform.
BI Reports
With our business intelligence reports, you can make data-driven and informed business decisions.
AppIngage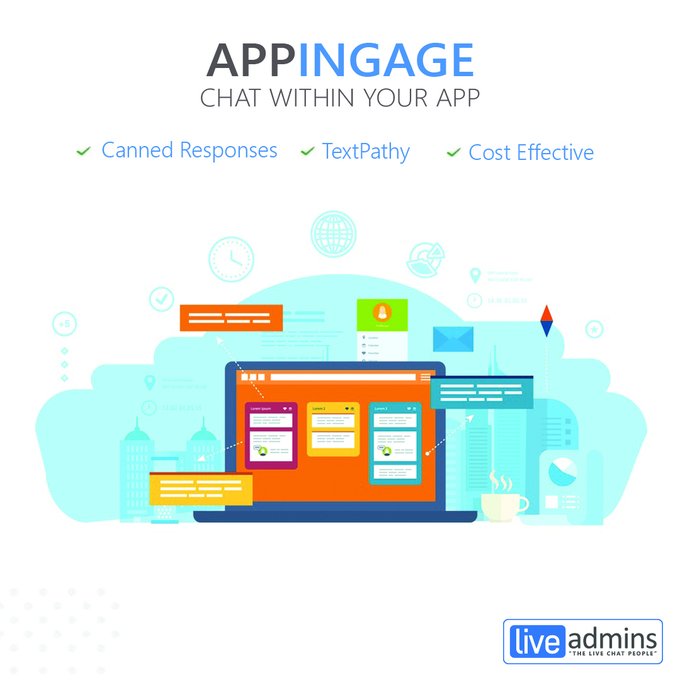 LiveAdmins live chat can also be integrated with your mobile application whether on iOS or android.
Canned Messages
You can save as many canned messages as you want to help you during the chats.
Customization
You can customize your live chat window in whatever way you want. Change the colors, put your logo or do any other thing, the sky is the limit.
Management Dashboard
You can manage your entire chat team from one single panel that shows details of all the chats, active agents, their performance record, etc.
LiveAdmins Chatbot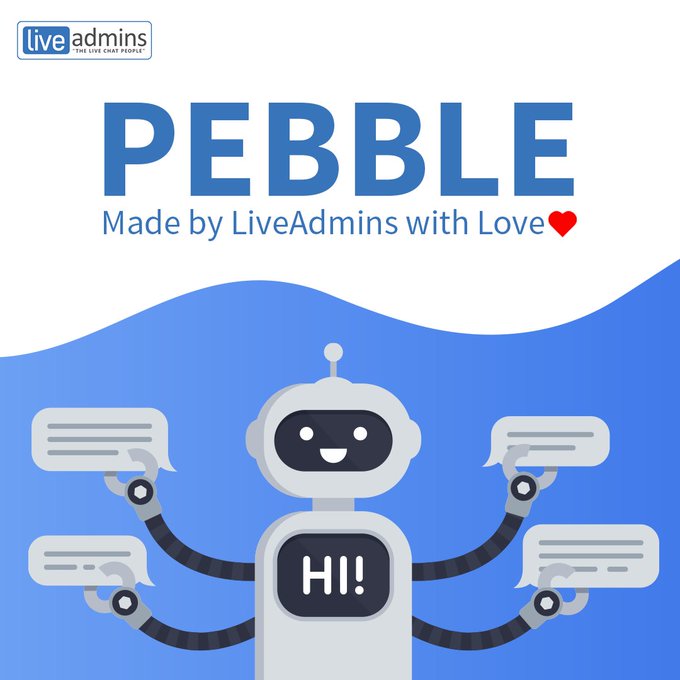 LiveAdmins Chatbot "Pebble" is a smart conversational bot powered by Artificial Intelligence to understand and answer questions asked by web visitors. Pebble is a multilingual, industry-specific chatbot, built upon Natural Language Processing to classify intents and manage conversations accordingly. Easily customizable, Pebble does not require you to have any coding knowledge.
Built in-line with global trends and requirements of contemporary sales and support teams, Pebble has the following primary features:
AI Assistant
Pebble works as an AI assistant on your website with the ability to communicate with online visitors, set up appointments, provide customer support, capture online leads and help sales teams close more deals.
Concurrent Chats
Pebble can handle an unlimited number of chats simultaneously thus breaking the chat limit barrier.
Customized Chat Flows
Pebble can be configured to handle any kind of chat flows ranging from appointment setting and capturing leads to providing support.
Context Management
Pebble is an intelligent bot that utilizes AI and NLP to identify context in a message and answer the question.
Knowledgebase
Pebble has a predefined knowledgebase that keeps developing with time through ML and DL as it keeps doing chats. Whenever Pebble is asked a question, it automatically searches for the required information from the knowledgebase and provides it to the visitor.
Multilingual Support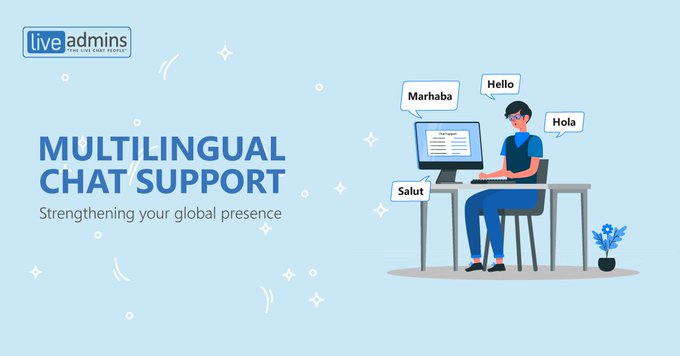 Pebble is programmed to provide multilingual live chat support in native fluency based on the feedback from our team of native speakers that offer multilingual live chat service.
Integrations
Pebble can be integrated with your CRM, social media and all major programs in your tech suite.
Multi-Platform Functioning
Pebble is designed to work on all platforms including MacOS, Windows, Android, iOS with utmost consistency.
Hybrid Live Chat
At LiveAdmins, we understand that businesses need to be highly flexible to incorporate changing market trends. We offer customized live chat solutions to our clients in order to maximize efficiency for their business. To offer the most optimum solutions for businesses, customized to their needs, we also offer hybrid live chat.
Our hybrid live chat combines our AI Chatbot Pebble with human agents. The bot remains at the frontline and continues to provide support and capture leads. The hybrid functionality comes into action where the bot requires human assistance. In such a situation, the chat is automatically routed to our live chat agents who take care of the conversation from that point.
Get A Live Chat Solution For Your Business
Discuss customized live chat for your business with our experts and find out which solution makes the most sense for you. Contact us for a free demo today.